Christmas Holidays in Costa Smeralda
It's that magical time of the year again.
Houses and cities dress up as festivals: lights, music and colors everywhere. In Costa Smeralda Christmas is also in the air. There are events in Arzachena and in the neighboring villages: concerts, markets and various activities. Local artisans are already at work since long time, either if you are looking for an artisanal panettone with the aromas of Sardinia, a handmade jewel or an original piece of forniture. In Porto Cervo Esmeralda's boutiques, in the sottopiazza, with various exclusiv brands, are open for a Chic present idea.
A property in Costa Smeralda in the Christmas period is also ideal for those looking for a moment of peace; the mild climate and wide views offers opportunities for regenerating outdoor walks. A delight for all the senses; the sound of the waves crashing ashore, the scent of ripe myrtle and the sight of corbezzoli trees which look like Christmas trees.
If you are in Porto Cervo you cannot miss the living nativity scene at the church of Stella Maris on the night of December 24th.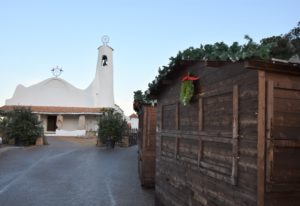 I thank all present and future Clients, friends and colleagues, I wish you a peaceful Christmas and a Happy New Year. Claudia.